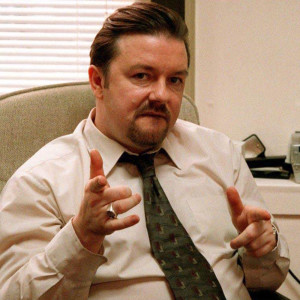 It is no secret that one key aspect for any fiction writer –novelist, screenwriter, playwright or any other related species– is coming up with good characters. Actually, the majority would arguably agree that it is the most important.
The problem is that it is a particularly difficult task, or at least it is to me. So from now on –even if it is only for the selfish purpose of getting better at it– I will endeavor to analise in a series of posts some successful characters, trying to find out what it is what makes them good.
And because I am an absolute comedy fan, I will begin with a character from this genre.
Yes, Ricky Gervais nailed it: superbly written and performed, David Brent is the stereotype of the boss that pretends being cool, despite of being laughed at behind the back (too risky to do it in his face). He is an egotist who lacks any of the assets any boss is supposed to be in possession of, intelligence, responsibility and social abilities, to start off with. He is actually useless about everything except praising his own virtues, and he is only expert in embarrassing himself to the highest degree and yet not losing any of his self-esteem.
A writer's lucubration
Not only will everyone agree that this is a brilliant character in his conception as much as in his acting, but also that he is the core of the entire series. Without him there would not exist "The Office", however good the rest of the characters are. And they are. Absolutely.
But is there enough such an extreme character to succeed? Let's ask ourselves: would this character be so funny in another place? That is, if he didn't have any subordinate, if everybody could laugh at him, if he had a post according his actual skills? Sure, in any situation a useless guy who believes himself to be the best has its deal of pathethism all right. But is there  enough conflict, if nobody suffers the consequences of his actions?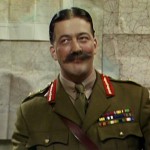 Or to put it in other words: would General Melchett in "Blackadder the Forth" be as fun if Blackadder and his men didn't suffer his deeply stupid commands? I believe not.
Conclusion: pathetic character, superior position.
This subtitle expresses my humble opition. A good character is only good when they are in the most suitable environement (or maybe the least), or/and if he has the right purpose in the plot.
Too obvious? I warned you I wasn't discovering anything new.
But then this makes me bring into question some theories about fiction writing, like the importance of profiling a character to the tiniest detail. The never ending question lists about characters come to mind. Are they really useful? What is the use of it if what really counts dramatically are only the characteristics that create an inner conflict and clash with the setting he is in?
Maybe sketching a few features suffice to start heading into the plot after all, and the rest can more conveniently be added along the way?
It would be interesting to know how these and other successful characters are created.
Meanwhile, let's keep guessing.